If you're noticing an ant infestation in or around your property, Extermination MG's experts in pest control will provide a free assessment of your infestation and give you a fair and reasonable quote.
There are also a few things that can help you keep the ants away. Here's what you need to know.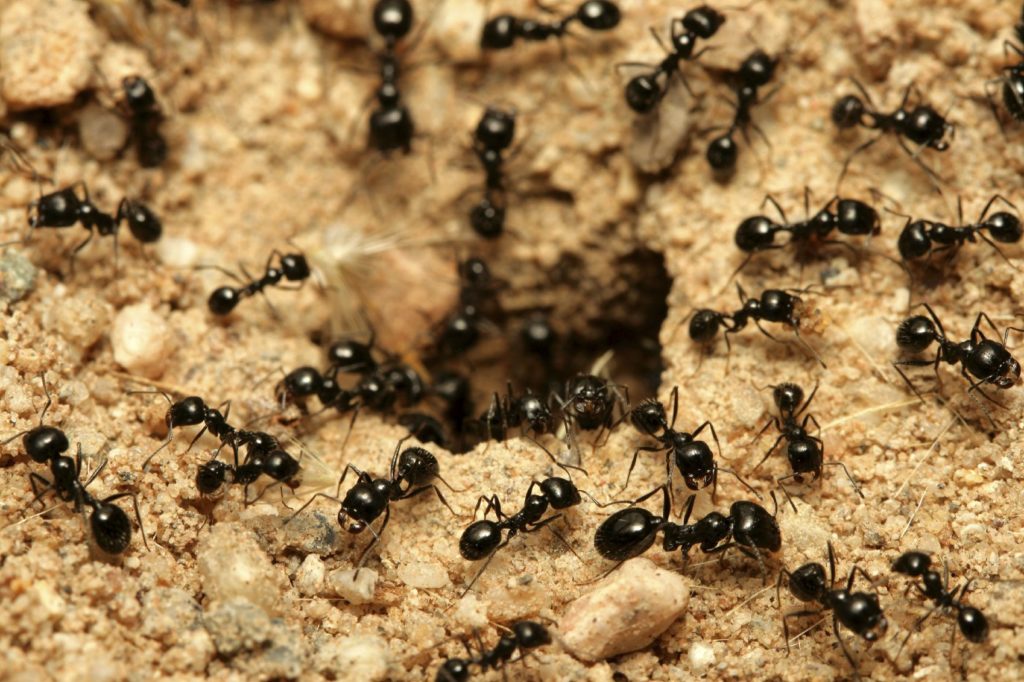 About Ants and Ant Infestations
Ants are familiar, easily recognized insects belonging to the Hymenoptera insect order. The wingless adult ants are particularly well known and easy to identify. Along with the wingless adults, there are winged ants that are often mistaken for winged termites. Winged ants leave the nest in large numbers with the objective of mating and starting new colonies.
The ant's body has a few important characteristics, that make it easy to distinguish them from winged termites. The characteristics include:
A constricted body that gives them the appearance of having a narrow waist; termites have broader waists.
Hind wings that are smaller than their front wings; termites' front wings and hind wings are about the same size.
The elbowed antenna on winged worker ants, which termites do not possess.
Like other members of the Hymenoptera order, ants have a social order with duties divided among castes of adults. The queens handle their colony's reproductive functions. They are two to three times larger than the other ants and have wings that they break off shortly after mating. The queen's job is to lay eggs, though they sometimes help to feed and groom larvae. The workers are sterile females and their job is to gather food and care for the larvae. Workers also build the colony's tunnels and act as soldiers to defend the colony. Workers comprise most of the colony.
Males are few in number and have one duty—to mate with queens. The males die shortly after mating. Males are usually the same size or larger than the workers, winged and have a small head. The workers feed and care for the male ants.

Signs of an Ant Infestation
In order to identify an ant infestation, look for these signs:
Ant Trails
In most cases, the first sign of an infestation will be trails consisting of thousands of ants leading to and from food sources.
Aphid Outbreaks
Ants feed on the honeydew produced by aphids. They tend the aphids and protect them from natural enemies.
Seasonal Swarms
Different ant species have specific times of year during which they swarm to mate. The queen will then seek out a suitable site for nesting and starting a colony. Swarms of winged ants indoors can indicate that the building is home to a nest.
Ants on Exposed Food
Homeowners who have not previously had pest problems may leave food exposed on kitchen counters and other surfaces. In a home infested with ants, this food will quickly be overrun. Ants may also be found in pet food-bowls.
Frass
Frass is the name used for the solid waste that carpenter ant colonies leave behind. Even if you do not see the insects, you may be able to see their frass. In most cases, it will be visible as small heaps of brown powder left behind when ants chew through a home's wooden structure.
How to Manage an Ant Infestation
It can be helpful to identify the type of ant in a home, This allows the homeowner to implement strategies geared towards the specific habits of that species. The person performing the inspection will need a magnifying glass and a knowledge of common household ant species.
Inspection
Find all the areas where ants are active, This means searching for nest sites both indoors and outdoors. To find outdoor nests, the homeowner should follow ant trails to their entry point into the home. Entry points can include gaps along baseboards or around plumbing and electrical outlets.
Common sites for outdoor nests include mulch and plants next to a foundation as well as in stored lumber or firewood. Swarming ants may indicate an indoor infestation in a wall void or ceiling, which means that those parts of a home should be inspected carefully as well.
Sanitation
Because ants are attracted to sources of food and water, controlling an infestation means removing those sources. The home should be kept as clean as possible. Food and drink spills should be cleaned up immediately and food containers should be washed thoroughly before being placed in trash receptacles. Homeowners should store food in airtight containers or in the refrigerator. Sources of moisture should also be addressed. Homeowners should inspect for plumbing and roof leaks in their home's interior and exterior.
Exclusion
The cracks and gaps that can allow entry should be sealed. This can mean applying caulk around windows and door frames.
Modify the Landscape
Ants are often drawn to a location by the sugar in the berries of certain ornamental plants. They also feed on the honeydew secretion of aphids and other insects that are found on ornamental plants. Steps like placing petroleum jelly around the base of the plant can help to stop ants by trapping them. Controlling aphids and other insects that produce honeydew may also help to discourage insects from entering a home.
Outdoor Nests
The most permanent way to get rid of an ant infestation is with the use of insecticides formulated for outdoor use. The best place to apply insecticide is at the nest site. In cases where the nest cannot be found, insecticide can be applied around the building's exterior to keep them out. This barrier will be temporary and may require additional treatments.
Insecticides that can be used to treat ant nests outdoors are:
Permethrin
Carbaryl
Bifenthrin
Cyfluthrin
Acephate
Indoor Nests
In cases where the nest is located in a wall void, it may be necessary to drill a hole for the application of insecticide. Baits are also useful. Baits differ from standard pesticides in that the worker ants feed on it and take it back to the colony where the other ants feed on it. In this way, the bait reaches parts of the colony that would be inaccessible with pesticides. The drawback is that baits are not an instantaneous solution in that they may take several weeks to work.
Common insecticides for indoor use include Deltamethrin and Permethrin.
Common insecticides used in ant baits include:
Abamectin
Disodium octaborate
Orthoboric acid
Applying insecticide on trails of foraging ants will not have much of an effect on the colony, though it may be beneficial if the infestation is seasonal and the nest site is outdoors.
Extermination MG assures Montreal businesses and homeowners professional and personalized services. If you have an ant infestation, don't hesitate to call us for a free estimate.