A bed bug infestation can be difficult to treat, so it's important to follow instructions and do a thorough job of following treatment steps and taking precautions to avoid re-infestation. Here's what you need to know about this common household pest.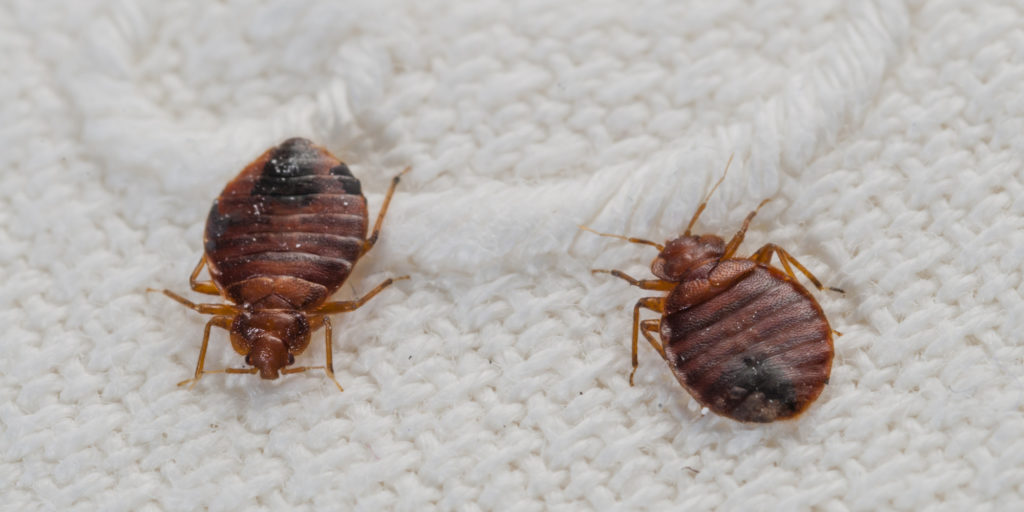 What Are Bed Bugs?
The common bed bug is known by the scientific name Cimex lectularius. In its adult form, a bed bug has a flat, oval-shaped body about three-sixteenths of an inch long. They have two wing-like structures on their backs but are not able to fly. Bed bugs eat only blood, and after a blood meal they appear reddish-brown with tiny gold-colored hairs that make them appear to be striped or banded.
Bed bugs have a characteristic smell they secrete from scent glands. It has been described by some as "sickeningly sweet" or as being similar to rotting raspberries.
It takes about three weeks for a beg bug to develop from an egg to an adult insect. A female bed bug lays between one and five eggs each day and can lay anywhere from 200 to 500 eggs during her lifetime. Eggs are usually laid in cracks or on any rough surface and adhere to the surface with a transparent adhesive substance.
Bed bugs molt, or shed their outer skins, about five times during their lifetimes. They must consume a blood meal before each shedding and, in the case of female bed bugs, before they lay eggs.
How Do Bed Bugs Feed?
Typically, an individual bed bug will feed every five to seven days. In extreme cases, they can live for up to one year without feeding from animals or human beings.
Most people do not feel direct pain when bitten by a bed bug. However, the bite may cause an allergic reaction, which can cause the skin around the bite to swell, redden, and itch. People can be allergic to bed bug saliva to various degrees, ranging from a very mild allergic reaction to a severe allergic reaction in a small number of people who are highly sensitive.
Apart from these allergic reactions, no diseases in human beings are known to be transmitted to people or between people due to bed bug infestations.
Bed bugs prefer to feed on human beings, but they will also infest other species that include wild and domesticated birds, cats, dogs, bats, mice, rats, and even guinea pigs. Although human blood is their preferred food, they are also commonly found in poultry processing facilities, as they will live in chicken populations.
Where Do Bed Bugs Live?
Bed bugs practice harborage, which means they make a home near their food source. They are more active at night than they are during the day. Typically, a group of bed bugs will spend the day resting in a crack or crevice in the wooden frame of a bed or in cracks in a wall, other pieces of wooden furniture, trim, baseboard, other fixtures on a wall, or even behind loose wallpaper. They will then come out at night to feed from sleeping humans.
Bed bugs prefer a warm climate to a cool one. Adult bed bugs will enter a state of hibernation when the temperature drops below approximately 61 degrees Fahrenheit. They cannot live in temperatures that are either extremely hot or extremely cold.
How Do You Treat for Bed Bugs?
The first step in getting rid of a bed bug infestation is to remove all the fabrics from the bed, including pillows, clothing, and toys, and wash these items. Items that can be placed in a washing machine and dryer should be cleaned using this method; bed bugs cannot survive the high heat of the dryer. These materials should be washed using the highest-heat setting possible. Items that cannot be washed and dried in this manner should be gone over thoroughly with a vacuum cleaner.
After being cleaned, all items should then be placed in a sealed plastic bag or plastic container so they cannot be re-infested. Isopropyl alcohol (rubbing alcohol) can also be used to clean surfaces that can't go in the washer and dryer, but you must check to make sure that you will not damage the surface before applying the rubbing alcohol. Items can be removed from their plastic containers after the living space has been treated with two rounds of an insecticide, or approximately two weeks after the beginning of treatment.
In some cases, upholstered pieces of furniture will need to be discarded if the infestation cannot be controlled. When discarding a piece of furniture that has bed bugs, wrap the item completely in plastic to avoid spreading the insects to other parts of your home/building. To discourage others from bringing the item back into the building or spreading the infestation to their own homes, you may want to mark the infested piece of furniture with spray paint.
Thorough cleaning, vacuuming, and preparation before calling for professional extermination will give the best results. Inadequate preparation will make treatment more difficult and may result in incomplete extermination.
Extermination MG has been treating bed bug infestations in the Montreal area for decades. Call us to get a free quote today.