Rat infestations can occur in residential and commercial properties, especially when the temperatures drop. Rodents may hibernate in the winter, but rats will also enter buildings for warmth, food and water. Here's what you need to know if you believe that your home or business has been invaded by rats.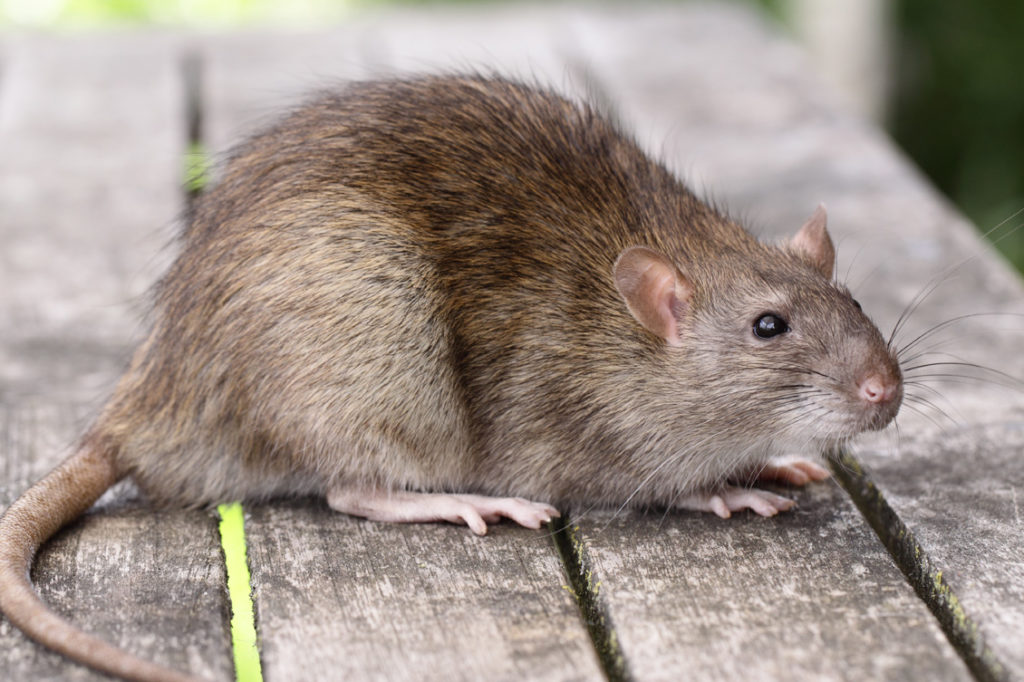 Rats Are Large Rodents with Long Tails
Rats are similar to mice, but this type of rodent is typically larger and will have a longer tail. Some species of rats have adapted to living in urban areas, and the rodents will travel through sewer lines to reach the crawl spaces or basements of buildings.
A Rat Can Climb a Building to Reach a Rooftop
A rat has large front teeth, and it can chew through thick substances such as wood, drywall and cement. Some types of rats have learned how to climb downspouts or trees to enter a building's rooftop chimney or venting systems. In some cases, rats thrive for several months in the hidden areas of a building while the rodents breed.
Rats Cause Major Property Damage
Unfortunately, rodents urinate and leave droppings on all surfaces, leading to severe damage to a building. The moisture stains and foul odor from attic rats is one of the first signs that a property owner has a serious infestation of rodents. By the time that an exterminator is contacted, there is often major damage to a building's wall and attic insulation. When a building has a huge infestation of rats, the rodents might chew on the electric wires, requiring a replacement of these items.
Rodents Carry an Assortment of Parasites
As the rodents live in the walls of a building, the urine from the rats leaves pheromones on the insulation or wood, and this can attract other rats along with insects. In addition, rats can carry fleas, worms and other parasites that will infest a building's materials. Not only can a property owner have a building that is damaged by rodent urine and droppings, but also, the moisture from this contamination can lead to mold growth and mildew odor.
Rats Can Transmit Diseases to Humans
It is possible for aggressive rodents to bite humans or their pets, and there are cases of rats attacking infants in their cribs at night, leading to serious injuries. A rat's bite or its parasites can cause an assortment of health problems, including:
Rat-bite fever – sore throat, headache, vomiting
Leptospirosis – red eyes, skin rash and a high fever
Hantavirus – chills, muscle aches and fever
Salmonella – muscle pain and gastric distress
Tularemia – fever, skin ulcers and fatigue
Bubonic plague – vomiting, headaches and fever
Lassa fever – respiratory distress and hemorrhaging
Some of these health conditions are caused by breathing in contamination or by having skin contact with the rodent's body waste.
Signs of a Rat Infestation
It is important for homeowners and business managers to inspect a building on a regular basis to find the signs of rat infestations. Experts recommend using a flashlight to check poorly lit areas, and a property owner may need to use a ladder to look inside attics.
Here are the signs of a rat problem in a residential or commercial property:
Scampering noises inside the walls or ceilings
Finding droppings or urine trails along the baseboards
Having family pets that act strange
Finding tufts of fur in a building
Seeing tooth marks on a building's materials
Smelling foul odors from body waste or dead rodents
Finding a rodent's nest
Chewed food boxes and bags in a kitchen
Footprints on the floors or countertops
A rat can squeeze through tiny holes and crevices to enter kitchen cabinets or drawers, leaving its body waste on dishes and eating utensils.
Rats Usually Invade Dirty Buildings
In some cases, a building is clean, but it can still have a rodent infestation. If the building next to your home has rats, then the vermin might also invade your home. It is vital to keep a building free of clutter, especially garbage. Not only should you keep food waste in sealed containers inside a building, but also, you shouldn't have open trash cans outside.
Seal Crevices and Holes to Prevent Rat Infestations
You should also seal any crevices and holes in your home with insulation, liquid caulking or metal devices. Keep the areas around a building free of clutter such as piles of lumber or children's toys. Inside a building, don't have stacks of cardboard boxes or piles of dirty laundry where rats can hide. Trim the foliage on trees so that rats can't reach a building's rooftop to enter any holes under the shingles.
Exterminators Use Humane Steel or Sticky Traps
When a building already has a rat infestation, you must also call a professional exterminator for assistance. An exterminator will walk through your business or home to determine where the rats are nesting. A building inspection will include walking around the exterior of the property and checking outbuildings such as garages. It is important to eliminate all of the rats on a property with humane steel or sticky traps.
Request Rat-Proofing Services for a Building
Pest control experts will avoid using poisons to control the rats because your pets or children could ingest the substances. In addition, poisoned rats will crawl into walls to die, and this leads to a smelly carcass that is impossible to remove. If a building has areas where rats can enter, then an exterminator can provide rat-proofing services such as installing wire mesh and removing urine-soaked materials.
Are you looking for rodent removal services in the Montreal area? Call Extermination MG and get a free quote today!